IPI wins coveted "Succeed Together" Award at annual Co-op Partner awards
Recognised for role in helping Co-op Group migrate its contact centre to the cloud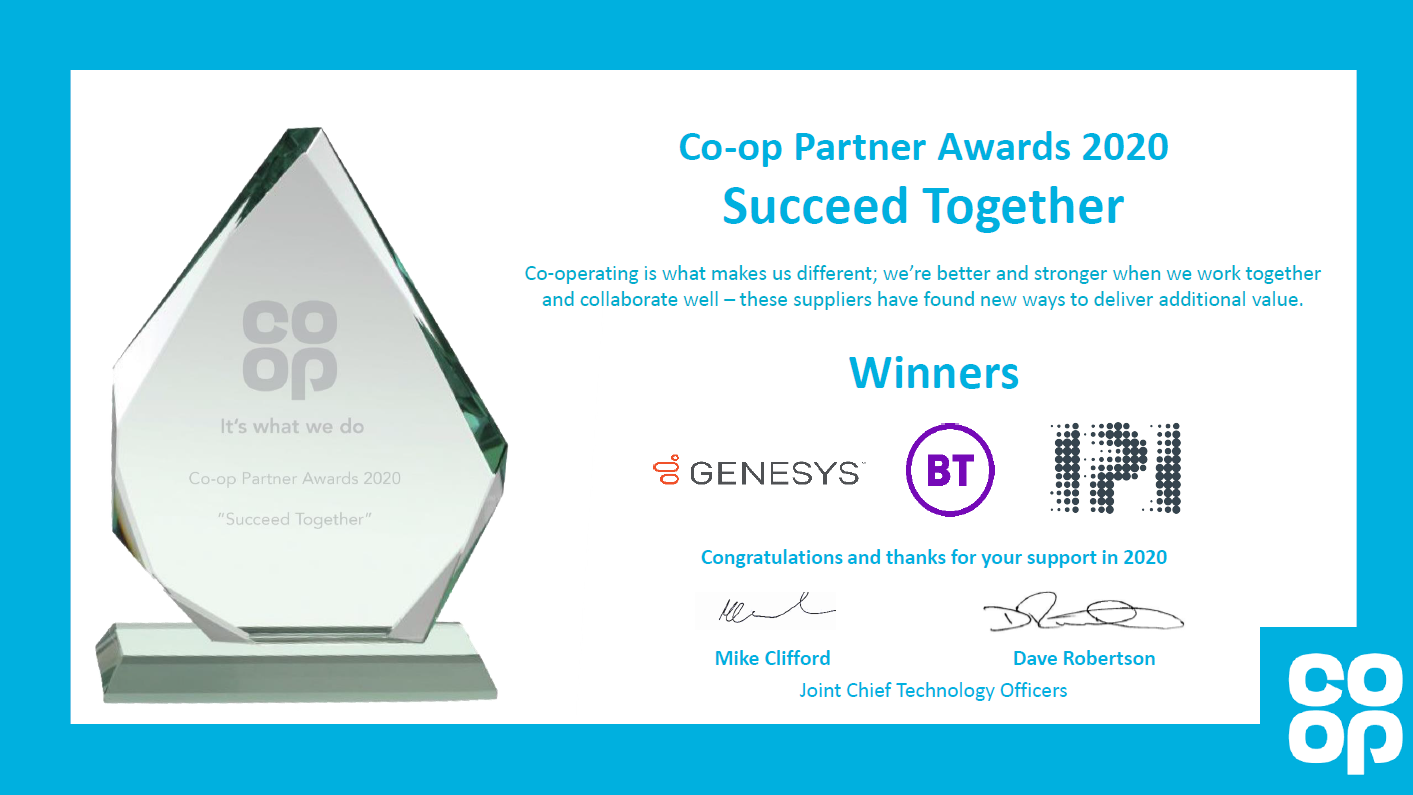 IP Integration (IPI), the digital contact centre specialist, today announced that, together with Genesys, the global leader in cloud customer experience and contact centre solutions, and its global systems integrator (SI) partner, it has received the coveted "Succeed Together" award at the annual Co-op Partner Awards. The team was collectively recognised for its role in helping the Co-op Group to migrate its contact centre operations to Genesys Cloud, the industry's leading cloud contact centre platform from Genesys. The award honours organisations who demonstrate effective collaboration and who have found innovative new ways to deliver additional value.
"The "Succeed Together" Award shows how co-operating is what makes us different, that we're better and stronger when we work together and collaborate well, and is given to suppliers that have found new ways to deliver additional value," said Paul Kenyon, Connect Services Manager, Enterprise Services, Co-op Technology. "The Co-op is delighted with IPI's continued support to Co-op Technology in 2020, and how it has engaged in such a challenging year."
IPI has been a Co-op Group partner for more than 20 years – working closely with the team to deliver trusted solutions across its contact centre operations. This award win reflects IPI's most recent work with Co-op Group, which saw the team working jointly with Genesys and its global SI partner to migrate its contact centre infrastructure from an on-premise to a cloud-based solution. This strategy enabled the Co-op Group's contact centre to remain operational even at the height of the COVID-19 pandemic.
"The Co-op Group is a much-valued partner, so receiving an award that recognises the strength of our relationship is a huge honour," said Dave Glasgow, founding director at IPI – Director of Strategic Alliances. "IPI places a great importance on always delivering the most innovative solutions to our clients. This award reflects that continued collaboration and commitment to our clients, and we look forward to extending our partnership with the Co-op Group over the years to come."
"In the current climate, businesses are looking to add a more empathetic and personalised touch to their customer experience," says Mark Armstrong, Director at Genesys. "We have been working diligently with IPI, our SI partner and Co-op to ensure that its cloud transformation provides tangible benefits to the business. We are delighted for the project to have been recognised with the Succeed Together award and congratulate everyone involved in the success of the project."
The award is IPI's second from the Co-op Group – previously winning the 'Show you Care' award which recognised IPI's shared values in encouraging its staff to make a difference within the community.
About IPI:
IPI is the UK's leading digital contact centre specialist, focused on creating intelligent and innovative contact centre solutions that deliver exceptional customer experiences and that best meet the needs of its clients in the evolving world of customer service. Founded in 2001, the company supports more than four million customer interactions and 55,000 agents every day.
IPI's portfolio of in-house developed applications is offered to clients alongside a complete suite of contact centre solutions from IPI's industry-leading partners. These bespoke solutions – available in the cloud, on-premise, or as a managed service – cover every component of the contact centre, from integration, unified communications, networking, workforce optimisation, compliance and security, right up to emerging technologies such as conversational AI and speech analytics. It also offers a range of consultancy and professional services as well as devOps support, delivered by its highly-accredited team of contact centre experts.
Headquartered in Reading, UK, IPI also has offices in London and Manchester, as well as in the Philippines. For more information, please get in touch.
IPI press contacts:
Eleri Boyesen / Jacqueline Booker
Eleven Hundred Agency
T: +44 (0) 20 7688 5202
E: eleri.boyesen@elevenhundredagency.com / Jacqueline.booker@elevenhundredagency.com