Cloud Migration Made Easy
Get Ready for Cloud
Genesys Cloud from IPI is enabling contact centres to stay sharp and agile, so they can continue serving and selling at scale. IPI's Genesys Cloud migration offer enables you to benefit from 12 months free licences to ensure your contact centre is ready for whatever may come next. Complete the form and our team will be in touch to discuss eligibility for this offer or contact us for more information.
Download the tip sheet for cloud migration tips.
Get Started With Cloud Today
Genesys Cloud free for 12 months
IPI will provide Genesys Cloud with both voice and digital channels free for 12 months with no upfront commitment.
Up and running within 48 hours
IPI experts will provide Genesys Cloud voice in 48 hours and digital channels shortly after — all at a heavily discounted price.
Flexible SIP services
Reduce costs with IPI's flexible SIP services and optional PCI compliance solutions.
Free eLearning
IPI's free introductory eLearning courses will allow administrators, supervisors and agents to be proficient in less than a day.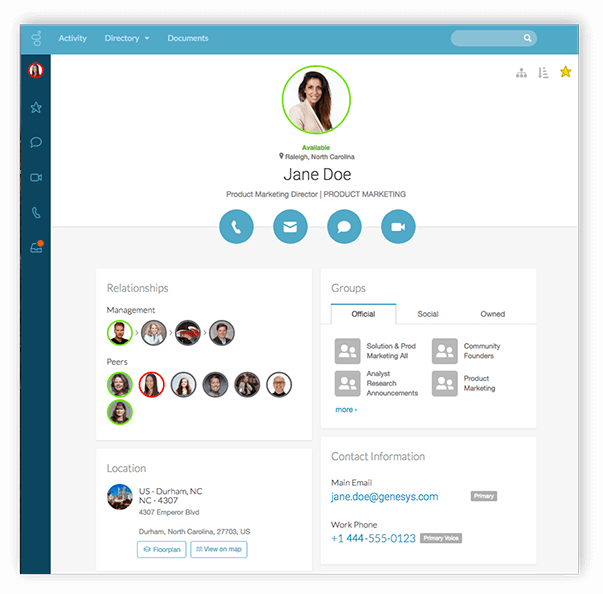 Genesys Cloud Has You Covered
Self-service options
Let customers get what they need without help. Free agents for complex interactions that require a human touch.
Voice and digital
Automate the routing of voice, callbacks, chat or email for greater efficiency when your call centre traffic spikes.
Outbound
Reduce incoming interactions by proactively informing customers about problems or fixes with outbound voice notifications.
Employee collaboration tools
Boost productivity with built-in chat, document sharing and video conferencing — perfect for the at-home workforce.
Public cloud hosting
Manage your contact centre remotely with a fully cloud-hosted solution that can be accessed anytime, anywhere.
Security and resiliency
Trust in a secure platform. Genesys Cloud is built to handle rapid change and adheres to the strictest cloud security protocols.
What Our Customers Say
More than 1,400 companies in over 100 countries trust Genesys Cloud to deliver seamless omnichannel customer journeys and build lasting relationships.

"We needed to expedite the process of remote working once the UK Government had issued the lockdown instruction to ensure that we could continue to deliver excellent service to our customers. IPI were able to rapidly showcase the full benefits that a Genesys Cloud solution could deliver "
Jonathan Evans, Technology Transformation Manager

"The implementation went really smoothly and within the time frame stated and everyone seems to have picked it up really quickly based on the training materials provided."
Chris Wane, Senior Planning & Control Analyst
"The sales process was smooth but the best part for us has been that the account team have been extremely helpful, supportive and knowledgeable as we navigate the new system. It is clear that IPI take their customers very seriously and don't just bring in the A-team for the sale…"

Jonathan Evans, Technology Transformation Manager
""IPI has demonstrated to us once again why it leads the charge for both service and technology. When we needed to enable homeworking quickly, their team recommended and transitioned our agents from Avaya to Genesys Cloud within days, enabling us to continue servicing our customers without any business interruption. The solution has proven to be agile and intuitive and a massive success with our agents. The messaging capability enables them to support each other and help with customer queries while working remotely. The partnership between IPI and Genesys is an exciting one, and we look forward to driving increased benefit from the end to end solutions they offer.""

Andy Cole, General Manager
"At Hodge Bank, we were in the early stages of procuring a new Contact Centre solution that would meet our requirements, which included the ability for agents to work remotely. However, we needed to expedite that process once the UK Government had issued the lockdown instruction to ensure that we could continue to deliver excellent service to our customers, as the legacy Contact Centre solution we had deployed had very limited features for Remote Agent working. IPI were able to rapidly showcase the full benefits that a Genesys Cloud solution could deliver which provided increased functionality and flexibility, while providing confidence in terms of delivery timelines and ease of implementation. The initial engagement to solution deployment lasted 2 weeks in total and we are delighted with both the deployed solution and, importantly, the strategic partnership that has been built between our respective organisations."

Jonathan Evans, Technology Transformation Manager
"I can honestly say that IPI are unique in their market space. Despite all the challenges affecting everyone now, IPI pulled out all the stops and delivered us a clear business continuity plan and helped us to quickly transition to a new solution seamlessly."

Harvey Gill, Head of IT
"We continue to be very excited with the IP Integration partnership as they work closely with our Genesys teams delivering on our collective mission of delivering exceptional customer contact through the Genesys Cloud solution. What helps drive their success is that IPI are truly able to add value around the Genesys portfolio both through their application integration expertise and operational consulting that explicitly highlights the value to customers of partnering together."

Mickaël Lefebvre, PureCloud Channel Sales EMEA Director
"The implementation went really smoothly and within the time frame stated and everyone seems to have picked it up really quickly based on the training materials provided."

Chris Wane, Senior Planning & Control Analyst, Findel